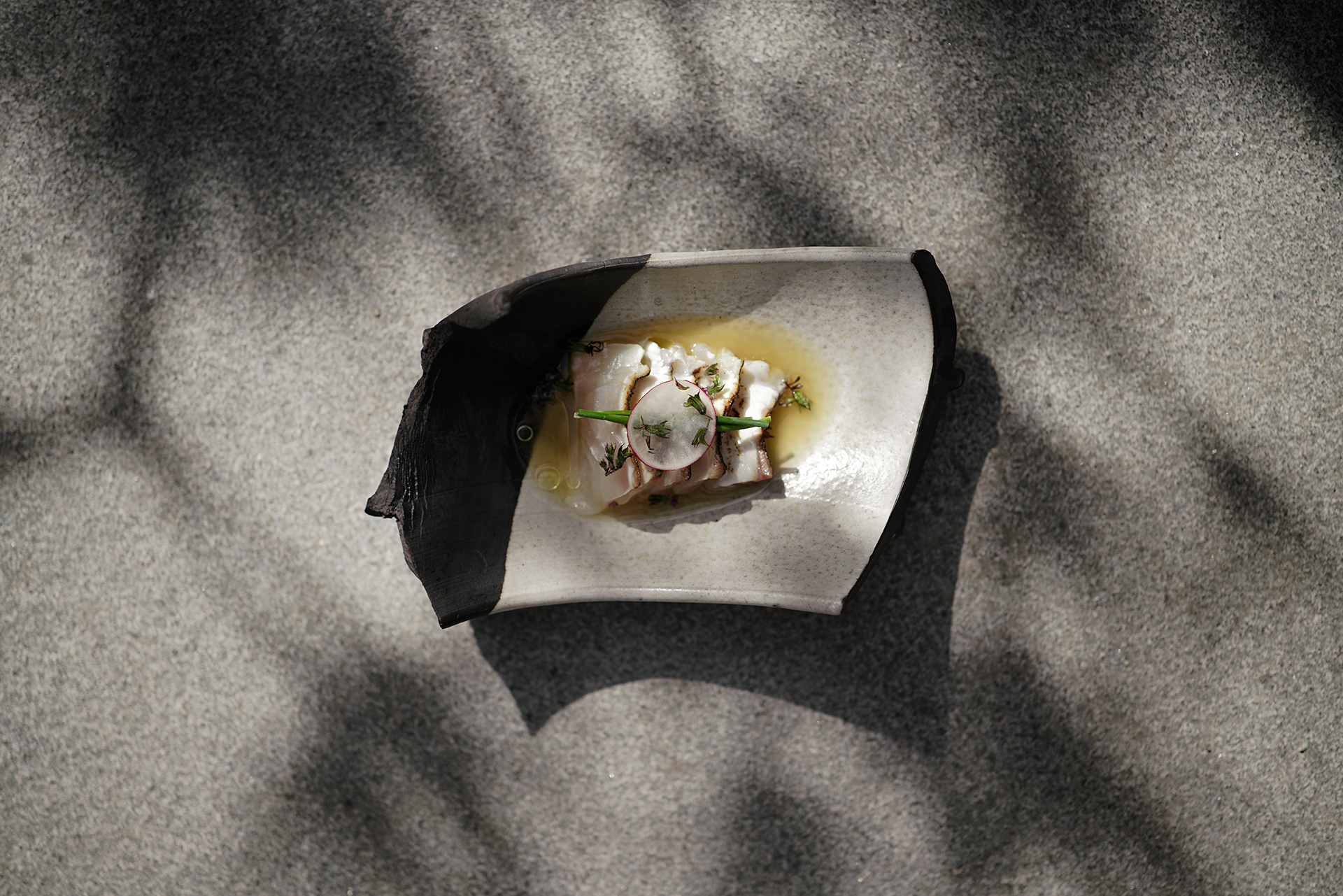 Kodō - Arts District - Los Angeles - The Infatuation
October 15, 2022
Kodō, a Japanese izakaya in the Arts District lined with bare concrete and black steel, is undeniably cool. It's run by the team behind transportive hilltop Hollywood spot Kensho. There are eye-catching design touches, like an indoor maple tree and billowing fabric above the patio. It also happens to be located in a converted, 1920s-era firehouse, which will eventually become a Ryokan-style boutique hotel. The only problem is that Kodō's dramatically minimalist design is more memorable than its mostly unremarkable food.
Stepping inside this sleek spot feels a little bit like entering a goth social club hosted in a zen garden. Jet black walls frame a cement path that leads through a mini-maze to the restaurant's concrete cube of a courtyard. Faint house music plays and the stone host stand resembles a tiny meteor that somehow landed on Earth in an upright position. It's a sharp departure from lively spots nearby like bestia and damian, and if anything, could pass for a lite-version of vespertine in Culver City.
Staff here wear dark hues and strut like the models in a Rick Owens fashion show. Rather than overexplain the menu, they'll let you get comfortable and casually check in as needed. Whether you're seated on the sprawling patio or at the LED-lined bar inside, you'll be surrounded by DTLA's subtly stylish, I'm-wearing-a-$120-black-T-shirt crowd enjoying a sake-fueled night out. Because, of course, this is a restaurant. Therefore there is food. Food that somehow feels secondary to everything else.
Kodō's Kyoto-style menu is essentially a long list of chargrilled bar snacks and raw fish. You'll find sushi options like sashimi, handrolls, and nigiri, near the front of the menu, along with decent cocktail like a lychee martini and a paloma made with oolong tea. Izakaya bites like spare ribs, chicken wings, and a Japanese omelet take up the back. The kitchen is led by the former chef of reliable sushi spot Hamasaku, so it makes sense that the high points here involve raw seafood. But for the most part, the bar snacks at kodō are hit and miss.
The sweet glaze on the tiny chicken wings is flavorless, and there's more breading than actual meat in each bite. The spare ribs have a decent char, but they are too small and so oily you can barely taste anything but rendered fat. The gobo chips are a pile of crunchy vegetable shavings that could desperately use some dipping sauce. But we did love the juicy chicken tsukune and seared sea bream, plus there's an unexpectedly excellent cheesecake you should absolutely order for dessert.
If you love design, minimalism, and moody dining spaces with a bubbly crowd, Kodō offers a fun night out, especially if you stick to the sushi and extensive sake menu. But if your top priority is eating the best Japanese food in LA, there are too many competitors like Tsubaki and Shibumi that make this spot less of a destination.
Food Rundown
Spare Ribs
These pork spare ribs are plated like they belong in a Jenga tournament. Each one is grilled and glazed, before being seasoned with lots of black pepper and green onions. The meat is very fatty, and we wish each order came with more than a tiny smear of hot mustard to cut the richness.
Tsukune
A safe bet: order this Japanese chicken meatball topped with a bright yellow egg yolk. It comes out as a round patty that's nicely charred along its edges. And once you break the yolk, the juicy meat soaks up all of that runny egg and creates a creamy, crispy, salty situation.
Seared Sea Bream
Mild in flavor but satisfyingly meaty, this seared-but-mostly raw sea bream should definitely be on your table. The thinly-sliced fish is served in a shallow pool of lemon juice that adds a citrusy punch to its smoky flavor.
Handroll Trio
This sampler platter of hand rolls comes filled with fresh and straightforward tuna, yellowtail, and salmon. It's deeply satisfying, and costs about the same price as one of the more deluxe maki rolls. Order it if you want to try a range of high-quality fish.
Cheesecake
Like finding your dream wedding dress on Amazon or meeting the love of your life during jury duty, it's unusual that the best thing on an izakaya menu is a slice of cheesecake. But we're not complaining. This one is dense and savory, with a texture so smooth you might think you're eating a slice of lemony cream cheese.